Hi there! Today's video shares how to create interactive cards that have a fun pop up surprise for the recipient. This post is also a part of the Hero Arts 2018 catalog release blog hop and I am excited to share some of their fun new products (more info at the end of this post)!
(Looking for anything that I used in the video? All of the supplies are linked with images to multiple stores at the end of this post. Compensated affiliate links used when possible. Watch the full video HERE in HD!)
For the first card, I used the Mouse Tea party stamp set and created a simple scene with some of the smaller mice (I wanted to keep the outside of the cards pretty simple to make the inside the focal point).
To create the interactive portion, I cut out stripe from a separate sheet of cardstock and created a fold to make a place where the image can sit (better explanation in the video). When the card opens this little mouse stands up!
On the second example, I used the Woodland Tea Party stamp set to create a similar scene. I really quickly added color to the images using Copic markers.
For the inside of this card, I used an action wobbler to create a pop up image that shakes around.
Although both of these cards have interactive pieces on the inside, They fold down flat and are able to easily go through the mail.
SUPPLIES
Below are all of the supplies used in today's video linked to multiple stores for convenience. Compensated affiliate links used when possible… Thank you!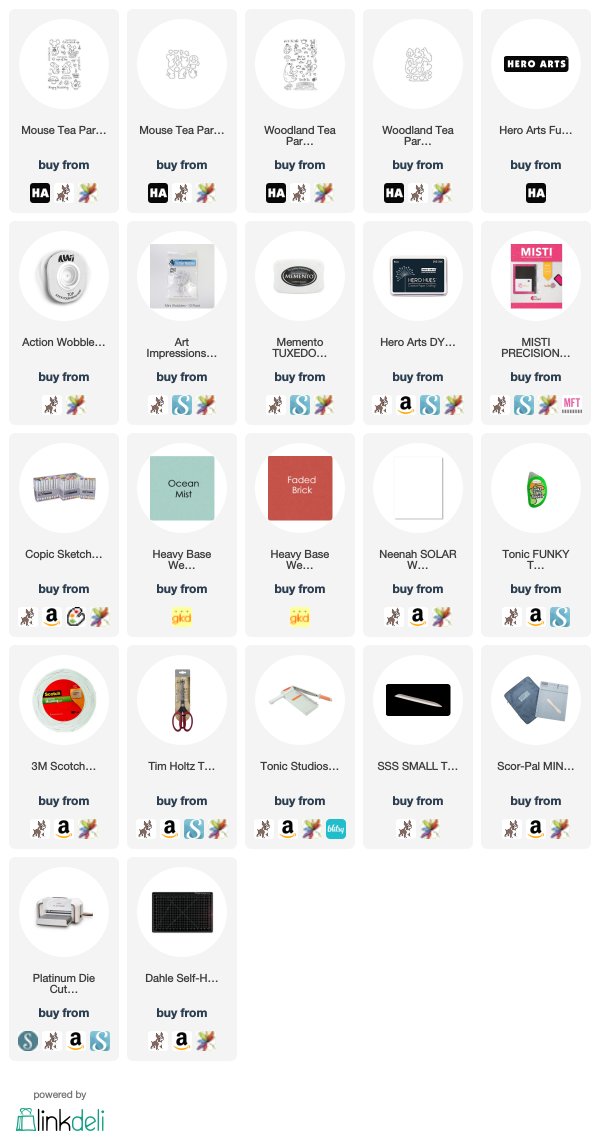 BLOG HOP
I am excited to be joining along in the Hero Arts catalog release blog hop! Click HERE to shop all of the awesome new products in their catalog release. 🙂
Hero Arts is also giving away three $50 gift certificates drawn from comments across the blogs on the hop. Be sure to leave a comment by Thursday, February 22nd at 11:59pm PT and the winners will be announced the following week on the Hero Arts blog.
Continue hopping along with the rest of the fantastic designers:
The Hero Arts Blog
Jennifer McGuire
Kristina Werner
Jessica Frost-Ballas
Yana Smakula
Cathy Zielske
May Sukyong Park
Nichol Spohr
Michelle Short
Wanda Guess
Amy Tsuruta
Lydia Fiedler
Heather Ruwe
Laurie Willison
Clare Prezzia
Iliana Myska
Emily Midgett
Janette Kausen
Jenn Shurkus
Sean Fetterman
Simon Hurley  *you are here
Joan Bardee
Megan Hoeppner
Lisa Stein
Ilina Crouse
Amy Kolling
Rubeena Ianigro
Kelly Latevola
Libby Hickson
Lucy Abrams